WELCOME TO THE CALIFORNIA ALL STARS
Our Ontario location is located off the 15 and Auto Center/Jurupa. We are a family oriented, faith based training facility for kids age 5 – 19. We have Teams and Classes for all levels. HOME of the 2014, 2016, 2017, 2018 UCA Champions, NCA National Champions & Summit Champions! Also home to The CALI Crystal – Level 1 Favs! We have been in the Inland Empire and greater L.A. area since 2014, with 11 Teams and multiple cheer/gymnastics classes for all levels and ages. No experience is needed. Come check us or call (909) 781-5958 for a Program Overview. There is a place for everyone at CALI ALL Stars! Drop in and see us! If you would like to be placed on our Interest List and receive information about our Teams/Gym updates, please click here!
EXPERIENCE THE DIFFERENCE and join the CALI Family.
No experience necessary.
How to schedule a Private Lesson? Click here!
Enroll here for Classes/Camps
Save the Dates!
California, Nevada and Arizona's #1 Cheer Gym!
Parent Info Night: May 8th, 6:30pm
Come to our Parent Night and get an overview of the experience, expectations and why we are love what we do!

Team Evaluations in May
Interested in joining? No experience needed.
Click here to enroll in our 2019-2020 Team Placements May 13-15th.
We have a team, class or prep team for all! Join us May 13-15th. Worlds Call Backs May 18th!
Ages 5-8 (4-5p)
Ages 9-14 (5-7p)
Ages 15 + (7-9p)
2019-2020 INFO PACKET BELOW!!!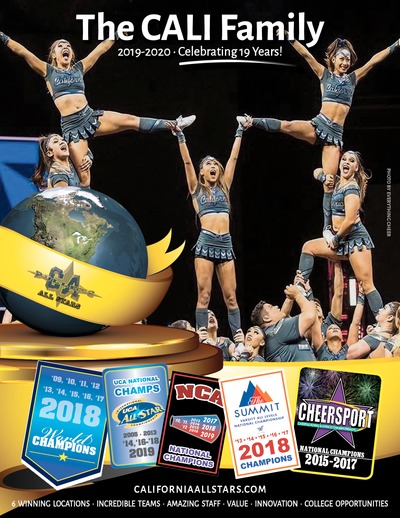 Office Hours
Monday - Thursday 3:30 PM - 9 PM
Saturday 9:30 AM - 11 AM