WELCOME TO THE CALIFORNIA ALLSTARS
Our Livermore location is off First St and the 580. We are a family oriented, faith based, cheer training facility for kids age 5 – 19. Our gym motto is "faith over fear" and we embrace this within our organization on and off the floor. Building kids from the inside out with values, love and respect is something we foster and consider daily.
We have affordable Teams and Classes for all levels. We are the home of the 2013, 2014, 2015, 2016, 2017 NCA Champions! Also home of The 2013, 2017 and 2018 World Champions – CALI BLACK OPS! We are Northern California's Finest Competitive Cheer Club, with 13 Powerhouse Teams and Classes for all Levels. No experience is needed. Come check us out by calling 925-455-1475 for a Program Overview. If you would like to be placed on our interest list and receive team updates and gym information, please click here!
EXPERIENCE THE DIFFERENCE and join the CALI Crew
No experience necessary.
How to schedule a Private Lesson? Click here!
Save the Dates!
California, Nevada and Arizona's #1 Cheer Gym!
Parent Info Night: May 8th, 6:30pm
Come to our Parent Night and get an overview of the experience, expectations and why we are love what we do!

Team Evaluations in May
Interested in joining? No experience needed.
Click here to enroll in our 2019-2020 Team Placements May 13-15th.
We have a team, class or prep team for all! Join us May 13-15th. Worlds Call Backs May 18th!
Ages 5-8 (4-5p)
Ages 9-14 (5-7p)
Ages 15 + (7-9p)
2019-2020 INFO PACKET BELOW!!!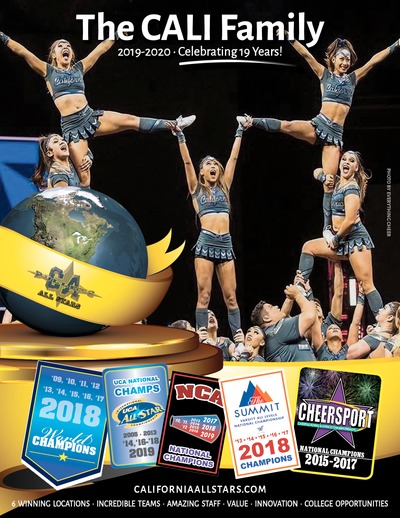 Office Hours
Monday - Thursday 3:30 PM - 9 PM
Saturday 9:30 AM - 11 AM