WELCOME TO THE CALIFORNIA ALLSTARS
Our Livermore location is off First St and the 580. We are a family oriented, faith based, cheer training facility for kids age 5 – 19. Our gym motto is "faith over fear" and we embrace this within our organization on and off the floor. Building kids from the inside out with values, love and respect is something we foster and consider daily.
We have affordable Teams and Classes for all levels. We are the home of the 2013, 2014, 2015, 2016, 2017 NCA Champions! Also home of The 2013, 2017, 2018, 2019 World Champions – CALI BLACK OPS! We are Northern California's best competitive cheer gym, with 13 Powerhouse Teams and Classes for all levels. No experience is needed. Come check us out by calling 925-455-1475 for a Program Overview. If you would like to be placed on our interest list and receive team updates and gym information, please click here!
EXPERIENCE THE DIFFERENCE and join the CALI Crew
No experience necessary.
2020 Save the Dates!
Season 20 Tryouts: May 13-14th, 16th 2019 (New Season Starts May 18)
Tryout Clinic May 9th!
CALI SHOWCASE: Oct 18, 2020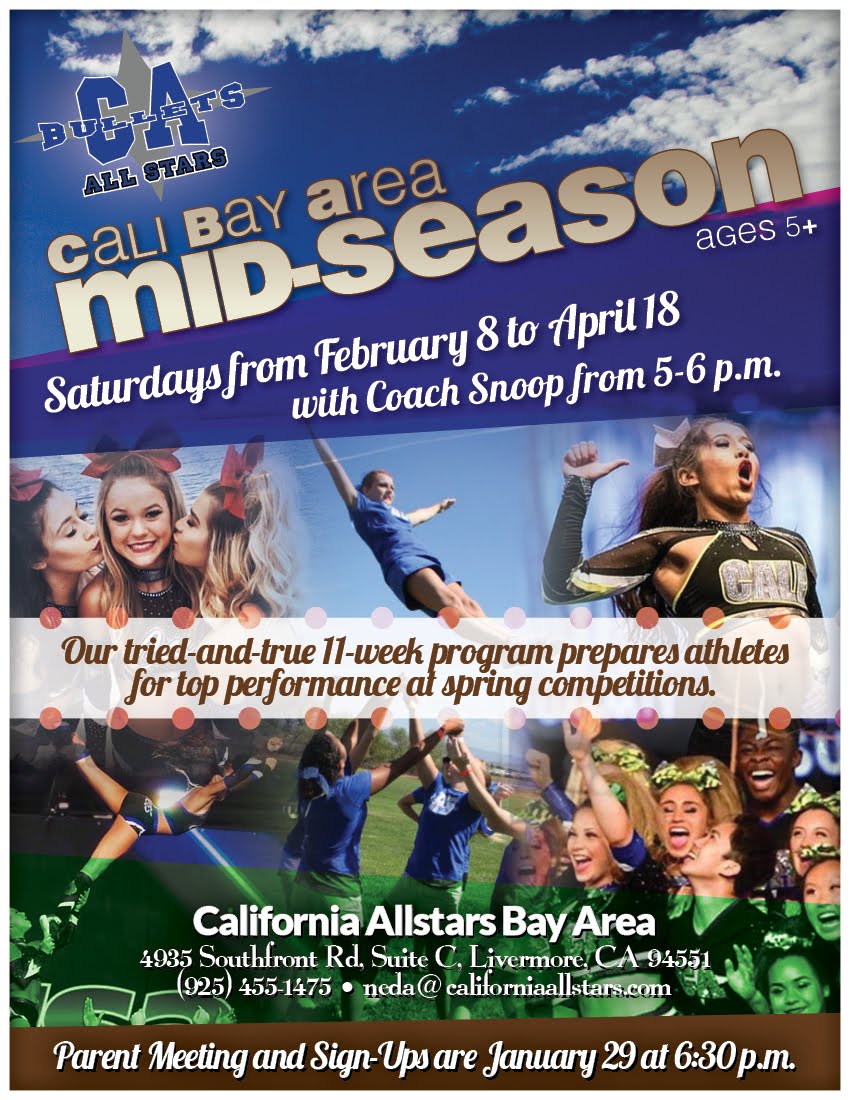 Our mid-season team is perfect for the beginner!
This is a great place to start for families that would like to experience our program!
Please join us on Jan 29th at 6:30PM for an overview/sign ups! No experience necessary!
To enroll in our mid-season team, please click link below.
Contact Info
4935 Southfront Drive Suite C
Livermore, CA 94551
Phone (925) 455-1475
Office Hours
Monday - Thursday 3:30 PM - 9 PM
Saturday 9:30 AM - 11 AM